Understanding Search Engine Optimization (SEO) trends thoroughly is necessary to stay one step ahead of the competition. Companies may increase their online presence and organic website traffic with the assistance of an SEO company in Toronto. These businesses will be at the forefront of putting innovative plans into practice in 2023 to keep their customers ahead in their quest for the digital market. This article will examine the main trends being given by SEO businesses this year and how they affect the SEO environment.
Core Web Vitals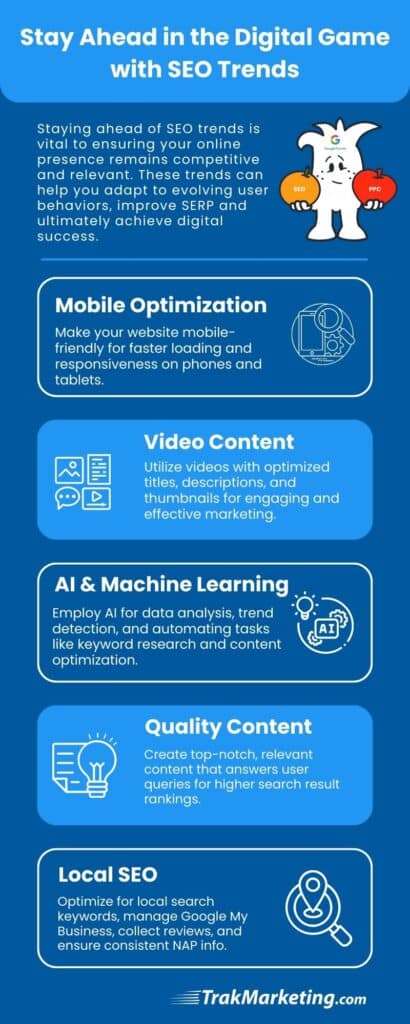 For SEO to succeed, user experience is crucial. SEO firms concentrate on core web vitals, including website loading time, interactivity, and aesthetic stability. The search engine ranking of a website is directly affected by these factors. For an improved user experience and a beneficial impact on search rankings, SEO specialists are optimizing websites to meet Google's standards.
Video Content
The importance of video content is growing in the digital age. SEO providers are adopting video SEO tactics to assist firms in maximizing the potential of video marketing. This entails optimizing the videos' titles, descriptions, and transcripts and producing interesting thumbnail images. Making your website optimized for video search is crucial since YouTube is the second-largest search engine.
Mobile-First Indexing
Although Google's mobile-first indexing has been known for a while, it is now a crucial SEO component. Mobile optimization is a top priority for an SEO agency in Canada that ensures mobile-friendly websites load rapidly and are responsive. The effectiveness of SEO depends on Google using the content's mobile version for ranking and indexing, known as "mobile-first" indexing.
Machine Learning and Artificial Intelligence (AI)
SEO firms are using AI and machine learning more and more to analyze data, detect trends, and automate routine activities. Keyword research, optimizing content, and even integrating chatbots for increased user engagement are all made possible by AI-powered tools. These tools make it possible to use SEO techniques that are both more successful and efficient.
Voice Search Optimization
The popularity of virtual assistants and voice-activated devices has enormously affected search behavior. With a concentration on natural language searches, SEO firms are increasingly optimizing websites for voice search. Consumers are more likely to utilize long-tail keywords when using assistants like Siri, Alexa, or Google Assistant. Therefore, this includes creating conversational content and optimizing for them.
Content Relevance and Quality
A key component of SEO since the beginning, top-notch content will continue to be popular in 2023. The creation of educational and captivating content is prioritized by a social media agency, which also makes sure that it is relevant to the target demographic. Good content that responds to user queries has a higher chance of performing well in search results.
Local SEO
For physical companies, local SEO is crucial. For local search keywords, such as "near me" searches, SEO providers optimize websites. This process includes creating and optimizing Google My Business listings, collecting online testimonials, and ensuring that name, address, and phone (NAP) information is consistent online.
Schema Markup
A structured data markup language called schema markup makes it easier for search engines to understand a website's content. Rich snippets, which make search results more educational and aesthetically pleasing, are being added to search engine listings by SEO businesses using schema markup. This may increase user engagement and click-through rates.
User Intent Optimization
For SEO to succeed, it is essential to understand user intent. SEO businesses are looking deeper into user behavior and tastes to provide content that accurately reflects search intent. This requires analyzing the context and user expectations behind such searches in addition to the targeted keywords.
Position Zero and Featured Snippets
An SEO agency in London, Ontario, focuses on achieving the desired "Position Zero" or featured snippets in search results. They focus on content optimization to provide clear, structured answers to frequently asked questions. By doing this, there is a greater possibility that the content will be clearly shown at the top of search results.
E-A-T (Expertise, Authoritativeness, Trustworthiness)
Google highly values a website's E-A-T factor. SEO agencies assist firms in establishing and showcasing their knowledge, industry authority, and reliability. This frequently entails developing the content of websites, showing credentials, and acquiring reliable backlinks.
Indexing Mobile-Only Content
A few search engines have shifted to indexing mobile-only content as the number of mobile internet users rises. By making sure that websites are not just mobile-friendly but also have content parity across the desktop and mobile versions, SEO providers continue to stay up. As a result, the mobile user's experience is optimized and consistent.
Conclusion
In conclusion, an SEO company in Toronto is leading the way in applying cutting-edge methods in 2023. The digital landscape is changing as a result of these advances, which also include user intent optimization, voice search optimization, mobile-first indexing, Core Web Vitals, featured snippets, content quality, video SEO, AI integration, local SEO, schema markup, and featured snippets. Staying on top of current trends is crucial for companies that want to succeed in the competitive SEO market and maximize their online presence.